June 19, 2019
Blitz night fun
This week saw the second night in Club's popular Blitz Cup series. Each player has 3 minutes for the game, and play as many rounds as possible, making an exciting and fun change from longer format  chess. Series 2 saw Gordon Lyall and David Paul take top spot with 6 points, with Neels du Plessis and Ross Jackson next on 5 points. Geoffrey Gunawan was the top junior on 4 points, with Valera Bonyushkin second on 3. Cumulative results after two series see Neels and David P leading, with Ross and Gordon following 1 point behind. Full results here. The third and final night will be played later in the year.
Last weekend three Club members, Geo
ffrey Gunawan, David Scott, Ross Jackson, and one past member, Lars Dobbertin-King, participated in the countries longest running and popular tournament on the national chess calendar, the Upper Hutt Rapid. Congratulations to Geoffrey who took out third place in the C-grade, and to Lars who placed second in the B-grade. See results from the tournament  here.
Photo: Geoffrey Gunawan, third place in the Upper Hutt Rapid, C grade, 15 June 2019. 
June 13, 2019
North versus South and first NZCF Badges awarded
The important question of whether KCC players in North Kapiti are better than those in South Kapiti was tested in a fun new event this week at the Kapiti Chess Club. With Kapiti Road as the demarcation line, the club was split into two teams, paired off in roughly equal strength, to play two 25 + 5 games. The North took out the night fairly comprehensively 10 points to 4. (See results here, and a couple of games from the night here). However, this was only the first of two nights, so no bragging rights can be claimed yet, and some appeals may still be pending from the South. But overall, this was a fun, new addition to the club calendar, credit to Club Captain, David Paul. Don't miss next match up on June 25.
Another important happening at the club this week was the awarding of the first set of NZCF badges to our junior members. This is a great NZCF initiative which seems to have gone down well. Congratulations, and now its onwards and upwards to the knight badge!
Photo: Mark Summers receives the NZCF pawn badge from Club President Gordon Lyall. Also awarded were Hamish Lester, Valera Bonyushkin, Geoffrey Gunawan and Savannah Edwards.
June 7, 2019
The 2019 Leo Eichholtz Winner
The 2019 winner of the Club's Leo Eichholtz Board for best rapid player was decided this week.
This tournamen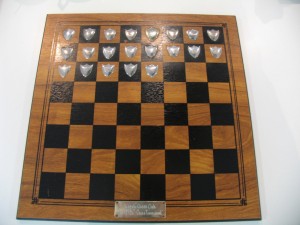 t this year was played as a series of two 8 round tournaments in a 25+5 rapid format. The series 2 winner was Ross Jackson with an unbeaten 7 from 8, followed by Gordon Lyall on 6.5 and David Paul on 6. But when combined with Series 1 results, the overall winner of the 2019 Leo Eichholtz board was Gordon Lyall on 13.5 from 16, with David Paul second on 13, and Ross Jackson third on 12.5. Congratulations.
Well done also to all the juniors that played, in particular to Geoffrey Gunawan who took out best-placed junior, and to Mark Summers who came in second.
Full results here.
And who is Leo Eichholtz? He was a founding club member when the club was established in 1984, and who donated this distinctive shaped chessboard trophy to the club for the best rapid player. It's been played for since 1990. See previous winners  here.
May 29, 2019
The 2019 Kapiti Rapid and KCC School Tournament
 Chess in Kapiti received a big boost in the weekend with the successful running of two annual competitions.
The 2019 annual Kapiti Rapid attracted 33 competitors, one of the biggest fields in recent years for this tournament, which first started 20 years ago. It was a relatively stronger field too this year, with an average rating over 1700, and seven players rated over 2000, including current New Zealand champions, IM's Russell Dive and Anthony Ker, plus a former NZ champion, FM Scott Wastney.
But arguably the bigger feature of the day was the successful running of the inaugural Kapiti Chess Club's Schools Championship. This tournament is aimed at promoting and supporting Junior Chess on the Kapiti Coast and surrounding regions, and developing our players for the future. The format provides a great opportunity for school kids to compete against other juniors, on a more even and fun basis than what might happen in the main event. It's also a chance for local schools to claim some bragging rights. This year saw 19 juniors competing from 11 schools, including a team from Levin Intermediate.
While the two tournaments were separate, they were run side by side in the same room, making for a great atmosphere and a packed hall of 52 players, plus spectators – the biggest attendance for a Chess event on the Kapiti Coast in over a decade.
The tournaments were played over six rounds in a traditional rapid format of 25 minutes with 5 seconds added per move. While the Kapiti Rapid was played as a single tournament, prizes were awarded in three grades, Open, under 2000, and under 1600.
The two tournaments featured 11 Kapiti Club players, including 4 juniors playing the school tournament, and 7 playing the Kapiti Rapid. Big congratulations to club member Hamish Lester who took out the college division individual prize in the School tournament with an impressive 5 from 6. Congratulations also to Mark Summers who took out the bronze medal in the 11-12 age group. In the main event, congratulations too to club members Brandon Holman and Neels Du Plessis who took out a share of first place in the under 1600 grade.
Special thanks to chief tournament organiser and Club President Gordon Lyall for managing the planning and running of the day, and for directing the play for the School event. A special mention also to Club Captain David Paul for directing play for the main Rapid event, while also managing to play in it. Also to Lars Dobbertin-King for bringing a team down from Levin and helping look after the school competition.
Congratulations to the prize winners below, in particular to Kapiti College for taking out the School Championship.
To see photos of the day, click here.
To see some of the games played, click here.
---
2019 Kapiti Rapid winners
| | |
| --- | --- |
| First:  | FM Scott Wastney (5.5/6) |
| Second: | Romie Guerra (5/6) |
| Third: | IM Russell Dive, Brian Nijman (5/6) |
| Under 2000 grade: | Bill Forster, Edward Tanoi, Michael Sole, Ryan Winter (5/6) |
| Under 1600 grade: |  Brandon Holman, Jacob Wirangi, Michael Ashe, Neels Du Plessis, Paul He (3/6) |
| | |
| --- | --- |
| Flora Paul Memorial Trophy (for best Kapiti Chess Club player): | Guy Burns and David Paul |
---
2019 Kapiti Chess Club School Championship winners
Individual Results
| | | | |
| --- | --- | --- | --- |
| Age group | Medal | Name | Score (from 6) |
| 13 and over | Gold | Hamish Lester | 5 |
|   | Silver |  Nathan Price                     | 4 |
|   |   | Noah Corbett   | 4 |
|   |   | Blake Toloa Hewitt          | 4 |
|   |   | Tim Pringle                       | 4 |
| 11-12 | Gold | Zac Li                                  | 5 |
|   |   | Ben Guo                             | 5 |
|   | Bronze | Mark Summers | 3 |
| Under 11 | Gold | Sravya Moparthi             | 3.5 |
|   | Silver | Raymond Guo                 | 3 |
|   |   | Marcus Chen                     | 3 |
|   | Bronze | Max Wang | 2 |
School Team Results
| | | |
| --- | --- | --- |
| First | Kapiti College | 13 |
| Second | Hutt Intermediate | 10 |
| Third | Paraparaumu College | 9 |
We welcomed three new faces at the club this week, Josh and Liam to our Juniors ranks, and one-time former member Gordon Anderson also coming along for some chess. Welcome!
This made for some great action for the night's play, as the second half of the Club's annual Rapid tournament continued into Rounds 3 and 4.  Round 3 match-ups all went to the higher-rated player, except David Paul pipped Club Champion Gordon Lyall, giving him his first loss of the tournament. Round 4 saw some close match-ups, with Ross Jackson over David Paul and Neels Du Plessis over Guy Burns.   Brandon Holman v David Scott saw Brandon handed the exchange and a better position early on, only to hand back a piece later on, and gradually get squeezed into a losing position, but eventually winning as David exhausted his time. See latest results here.
Club juniors (from left to right) Savannah, Mark, Hamish, Geoffrey, and newcomers Josh and Liam chilling in the analysis room between rounds.
Plenty of chess action this week as Series 2 of the Leo Eichholtz Rapid kicked off. The competition was boosted by the return of two travellers, Guy Burns and Brandon Holman from some weeks overseas,  both getting a point from the night, and Brandon almost securing a valuable second point against top-rated Ross Jackson. With a pawn on the 7th,  and some material gains forced, Brandon unluckily dropped his queen, to allow Ross to snaffle a late win. See latest results here.
| | |
| --- | --- |
| Junior coaching continues, with Club President Gordon this week covering some opening theory. | Brandon Holman v Ross Jackson (14/5/2019) |
May 11, 2019
Kapiti Chess festival time!
The annual Kapiti Rapid tournament and the inaugural Kapiti School Region Tournament are in a few weeks time. The Kapiti Rapid is now established as an annual grand prix 3 graded rapid tournament, with a competition format that will suit all grades. The Kapiti School Region tournament is a new tournament being run concurrently with the Rapid, and designed to promote chess for young people and schools in the region. Suitable for absolute beginners to already rated players. Prizes for both the best individuals and a cup to the best school.  The day promises to be a festival event, packed with chess,  including a food and drink stall. Come and support chess in Kapiti. Entry form and details for the Kapiti Rapid here, and entry and details for the Kapiti School Region tournament here.
The first series in the annual Leo Eichholtz 25+5 rapid wrapped up with Rounds 7 and 8 this week. Gordon Lyall and David Paul hold the honours with an impressive 7 from 8. Ross Jackson in third. Geoffrey Gunawan is leading the juniors and in 6th overall, with Valera Bonyushkin the current second placed junior. Results and standings here.
The third week of the Leo Eichholtz 25 + 5 Rapid continued this week with Rounds 5 and 6 played. Three players, Rick Lowe, David Paul and David Scott secured the maximum two points. This leaves David Paul and Gordon Lyall neck and neck leading into the final two rounds next week, with several others also in contention, including Geoffrey Gunawan who currently heads off the other junior members and sits in fifth place overall. The Round 6 match up between Neels Du Plessis and David P was a classic rapid tussle, with David showing some mastery in rapid play to come back with seconds left on the clock, from an inferior position, to eventually overcome the club's Blitz night winner. David is turning out to be an angel of death, as several now have succumbed to him from superior or winning positions. Full results here.
Junior sessions continued this week, with the introduction of the NZCF badge scheme to the Club. This went down well, with everyone showing near perfect knowledge with the Level one "Pawn badge" test. Well done!
April 26, 2019
Easter chess
While some took the opportunity to get away over the School holiday/Easter/ANZAC breaks, three Kapiti club members Geoffrey Gunawan, David Scott, and Ross Jackson, decided to spend four solid days competing in the annual Wellington Chess Club Easter tournament, which this year doubled as the North Island Chess Championships.
Our club members held their own against one of the largest, most competitive fields playing this event (a total of 56 players, including many of the top NZ players, more than a third of the field rated over 2000, and an average tournament rating of around 1800).
Geoffrey (rated 1445) continued with his promising progress of late, scoring 3 from 8 (and a very respectable performance rating near 1500). This  included a good win and a draw against 1700+ opposition. David S (rated 1666) scored a solid 4 from 8, managing a placing in the B-grade.
Special acknowledgement should be made to dual citizen member Ross (he is also President of the Wellington Chess Club), who not only played, but was the chief organiser of this successful event. Ross (rated 1928) scored 4/8 against tough competition, including a missed opportunity against current NZ champion Russell Dive. You can see this game, and ones from Geoffrey and David here. A full run down event results can be found here.
Meanwhile, round two of the Leo Eichholtz 25-5 rapid competition continued at the club this week. While a number were away on holidays,  it was great to see former Club Captain Lars back visiting. Club Champion, Gordon Lyall rolled on with his winning ways – with wins over Ross Jackson and David Paul. Geoffrey also secured a full two points for the night, and currently sits in second place with David P.
April 17, 2019
Leo Eichholtz kicks off
The Club's annual Leo Eichholtz tournament kicked off this week. These games are played in the 'rapid' format of 25 minutes per player with 5 seconds added per move.  The first two rounds saw the top ranked players (Gordon Lyall, Ross Jackson and David Paul) all leading with maximum points, although some were made to work hard. Geoffrey Gunawan, in particular, playing himself nicely into a great position against David Paul, before losing.  David Scott also failing to find a killer blow in his game against David. Results from week 1 here.
The club also welcomed newcomer Ben, who played some competitive games in his first night at the Club – in fact,  nearly upsetting Club Champion, Gordon, in his first club warm-up game!