John and Rose Kingston Memorial Trophy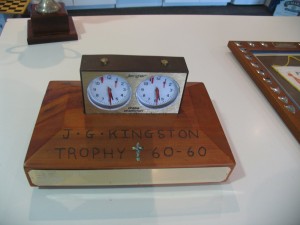 Played over 55 minutes plus 5 second add-on.
Rose Kingston was a long time member, and a tireless and loyal supporter of the Club. She was Club Secretary continuously from 1997 till her death in 2018. The trophy was first awarded in 2000. It was originally named after John Kingston, Rose's husband, a supporter of the Club from behind the scenes. After Rose's death in 2018, the trophy was renamed to the Rose & John Kingston Memorial trophy, in recognition of the contribution of the Kingston family to the Club.
Click on the image for a larger version.